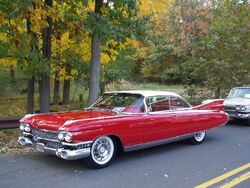 "Look after my baby when I'm gone, please Eva?"
— Scarlett asking Eva to take her car after she dies
Scarlett's Cadillac is a red 1959 Eldorado Biarritz convertible. Scarlett, when she was alive, used to drive the car everywhere after she restored it as a teenager. It was passed on to Eva when she died in 2010.
Background and Restoration
Edit
The car was purchased in Sleepy Hollow, West Virginia either in the early summer of 1996. Scarlett bought it from a guy called Bob McConnell for $1,100 and a bottle of Jack Daniels when she was 17. Scar was the third owner of the car. A doctor that lived on Southcott Drive in Fort Garry (Virginia), bought the car new. Bob McConnell was the next person to own the car before he sold it to Scar. At the time Scar was working part time at the local mechanic's, so she just about knew what she was doing. It took her just over a year and a half to restore the car.
1959-1966
Edit
Built
Bought new by a doctor that lived on Southcott Drive in Fort Garry
1966-1975
Edit
Showcased at various car events
1975-1996
Edit
Bought by Scarlett Holmes
Scarlett started to restore her
Car restored to her former glory
Scarlett drives to College in Emmerson (West Virginia) with her
Scarlett camps outside in her at Cold Oak, Colorado hunting a werewolf
Scarlett graduates from Emmerson College and begin hunting using the car as her base.
Car trashed after the Battle of Sleepy Hollow
Scar starts second restoration.
Late Winter
Edit
Car fully restored again.
Death appears to own '59 Eldorado Biarritz, it's a light cream.